A few days ago, I sat down in front of my computer and noticed a strange, new icon down in the Notification Area (the right side of the Taskbar, to the left of the time/date).
Here's what it looked like…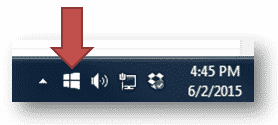 Mousing over the top of the icon, I saw a small pop-up window say "Get Windows 10".
So what's going on?
As it happens, Microsoft has finally come out with the Official Release Date for Windows 10, which happens to be July 29th of this year.
At the same time, they sent out a special "Windows 10 Reservation program" to all eligible computers running Windows 8 or Windows 7 (with Service Pack 1 installed). The program shows up as this small icon on your Taskbar.
Knowing that many of you might now wonder what all this means, and are confused about what you should do, I put together a 14 minute video showing you how the Reservation program works, and what you can expect to happen.
Click below to watch…
Mouse-over to see Controls – Click the double-arrow on the right to go Full-Screen
Why Don't I See the Icon?
After originally doing the article/video, I had a few students contact me to say that they did not see the "Get Windows 10" icon, even though they had Windows 7 or 8. According to Microsoft…
Windows 7 users must be running Windows 7 SP 1 (Service Pack 1). This was an update to Windows 7 that should have happened automatically as part of the monthly Windows Updates. You can tell if you have it by RIGHT clicking the My Computer (or just Computer) icon and choosing PROPERTIES. In the window that appears, you'll see your Windows 7 version. It should include "Service Pack 1".  Here's a shot of what my computer looks like…
If you don't see it, go to The Start Menu, choose CONTROL PANEL, and then WINDOWS UPDATE. Click CHECK FOR UPDATES on the left menu.
Windows 8 users must have the Windows 8.1 Update installed. You can also follow the above directions to check your Windows 8 version (from the Classic Desktop), and then open the Control Panel (RIGHT CLICK the lower left corner of your screen to get a menu) and choose Windows Update.
According to Microsoft, those PC's that can't run Windows 10 will not see the "Get Windows 10" icon on the Taskbar until AFTER July 29, 2015. At that time the icon will appear in the Taskbar Tray and users will be able to re-check their machines to see what they need to do for the update.
To summarize…
Windows 10 will be released on July 29, 2015.
If you "Reserve" your free copy, it will start downloading to your computer in small segments until the official release date.
When the release date hits, you'll be asked if you want to install the upgrade. You can either install it, or put it off and install it later.
If you don't go through the Reservation, you can still get the free upgrade.
Only those who are legally running Windows 8 or Windows 7 SP1 (Service Pack 1) can get the free upgrade.
As part of the Reserve process, the program will check your computer for any potential "incompatible devices"
To learn more, here are some links to Microsoft's official Windows 10 pages:
And in case you missed it, a few weeks ago I wrote another article on Windows 10 which included a video of some of the new features you'll see…
CLICK HERE to see that article.
Of course, as I learn more, I'll be sure to pass it along to you here.
Until then, as always, I'd love to hear your comments. You can leave them below!
FREE eNewsletter Subscription
Wondering who you can trust when it comes to computer technology? Need answers that aren't full of techno babble? Sign up for the FREE DiscoverSkills eNewsletter