As we approach the release of Windows 10 this summer, I thought it might be helpful to give you a quick overview of the most important things we currently know about what Microsoft is sending us.
When will it arrive?
Microsoft has not yet set a firm release date, but most tech insiders report that it will be at the end of July. A lot of it depends upon how the last part of development goes, and how many last-minute changes they decide to make.
Who can get it?
Windows 10 will come as a FREE upgrade to legal users of Windows 7, 8.0, and 8.1, as long as they upgrade sometime during the first year of the release. Microsoft also says that they will continue to provide all future updates free of charge.
At this point, Microsoft is NOT providing an update for Windows XP or Vista users, although there are RUMORS that Microsoft will release a $39.99 pay-for upgrade for those versions of Windows.
How will you get it?
Although there's no official word on this, most expect Microsoft to release Windows 10 through the regular Windows Update feature in Windows 8.0 and 8.1, and also with Windows 7 as long as you have upgraded to Service Pack 1.
Are there different flavors?
As with Windows versions of the past, Microsoft is planning multiple "editions" of Windows 10. Which edition you will get as a free upgrade depends upon the edition you currently have.
For example, those with Windows 7, 8.0, or 8.1 Home Basic or Home Premium versions will upgrade to Windows 10 Home.
While those with Windows 7, 8.0, or 8.1 Pro will get Windows 10 Pro.
Here are the editions Microsoft will be offering…
Windows 10 Home – Consumer version that includes all apps, and features like Cortana, Continuum, Windows Hello, and the new Edge Web Browser.
Windows 10 Pro – Small business version that includes apps for device management and more data security.
Windows 10 Enterprise – For large companies, includes even more security and management features.
Windows 10 Education – A special version for schools and universities, offered through academic volume licensing.
Windows 10 Mobile – Only available as an upgrade to Windows Phone 8.1 users or on new smartphones.
Windows 10 Mobile Enterprise – Targets large companies that need to manage a large number of corporate mobile devices.
What New Features will I see?
Although we won't really know until the final Windows 10 release is out, the past 6 months Microsoft has made Windows 10 developer releases available to anyone interested in seeing and testing the system.
Here are the key new features we've seen so far…
A New Hybrid Start Menu – Windows 8 dropped the Start Menu in favor of giving us a Start Screen that consisted of "app tiles". Not too many Windows users were happy with that. Windows 10 gives us back our Start Menu but with some changes, including the addition of an All Apps menu option and a left-side panel with app tiles.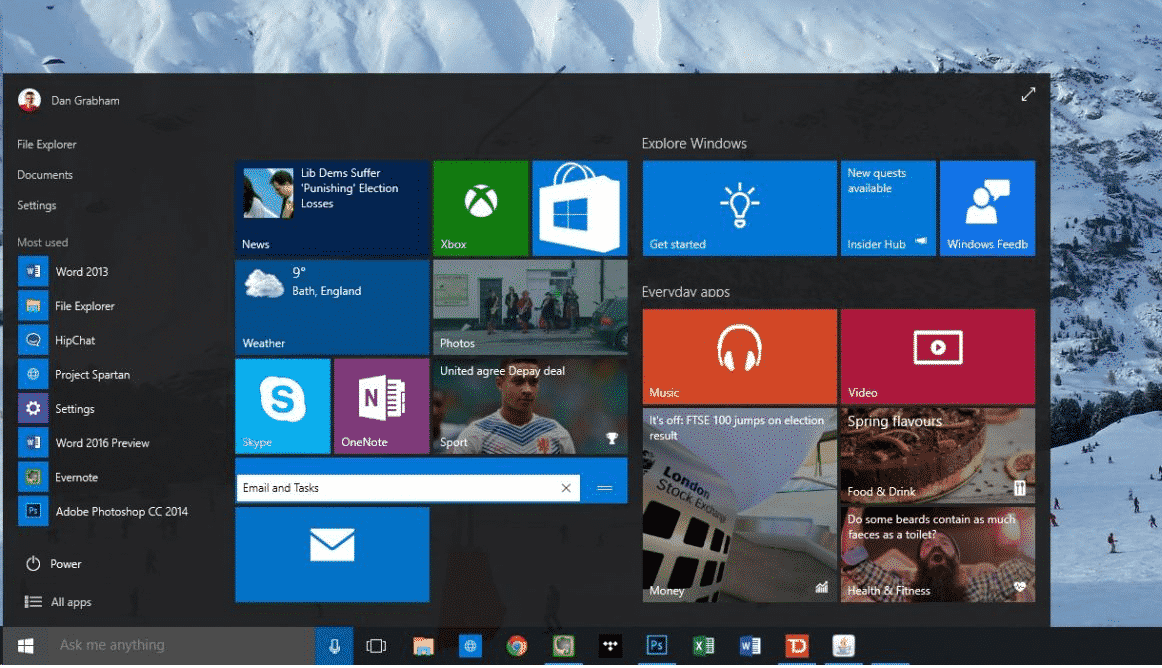 A New Browser – Microsoft is ending the life of Internet Explorer, and giving us a completely rebuilt browser called Edge (also known as Spartan). It's supposed to be faster, cleaner, and more secure.
Still have Apps – Like Windows 8, you will still have Apps and access to new apps via the App Store, but now they will run in regular desktop windows.
Solitaire is Back – For some strange reason, Microsoft did not include Solitaire with Windows 8 (although you could download it from the App Store). With Windows 10 it returns.
Cortana – This is Microsoft's version of Apple's Siri, and is a "digital assistant" that responds to your voice commands.
Continuum – This feature helps Windows 10 work better with devices that support both "touch input" and "keyboard & mouse". It changes the Windows interface to work best with whatever input method you are currently using.
Windows Holographic – Windows 10 supports a special Microsoft headset called HoloLens that allows you to interact with your computer through a "floating screen" and hand gestures.
Finally, to give you an idea of what you might see later this summer, I checked YouTube to see if there were any good, current demonstrations.  Although most were a bit more "geeky" than I wanted to show you, I did find one by Chirstopher Barnatt of ExplainingComputers.com that was pretty good.
[I edited the video, leaving just the parts that actually show the Windows 10 interface]
You can click the FULL SCREEN (double-headed arrow) button at the lower right (above) to expand to full-screen.
Of course, I'll have lots more information for you as we get closer to a release date, including a new Using Windows 10 book that I'm already working on.
Until then, as always, I'd love to hear your comments. You can leave them below!
FREE eNewsletter Subscription
Wondering who you can trust when it comes to computer technology? Need answers that aren't full of techno babble? Sign up for the FREE DiscoverSkills eNewsletter