[Click on the Video, below, to watch it]

Back in the "old days" we had those things called pull-down menus and toolbars.
Sure, at first it took us a while to get use them, but after 10 years of clicking here and clicking there, most folks finally got that hang of it, and were able to become comfortable with something they thought would last forever.
Then came the dreaded "ribbon". And computer life as we knew it, changed.
Ok, I'm being a bit dramatic here, but the fact is, the "ribbon concept" that Microsoft introduced with its Office 2007 products (Word, Excel, PowerPoint, etc.) has left a lot of folks scratching their heads as they scramble to find options and features that use to be right there in front of them, on their favorite toolbar or in their favorite pull-down menu.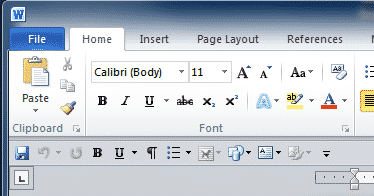 But before you throw up your hands in disgust, and check that new computer out the window, let me console you a bit.
The ribbon isn't really THAT bad, once you get the hang of how ribbons work.
Yes, it will take some time to look around and find your favorite options, but once you do, you might actually find that ribbons aren't so bad and there actually might BE some light at the end of the Microsoft tunnel.
And to help you get started, I've put together a short, 10-minute video that shows you the basics of using the Word 2007 / 2010 ribbon, or for that matter, the ribbons in ANY of Microsoft's programs (since the ribbons pretty-much all work the same).
By the way, if you are in the Lincoln, Nebraska area, we offer a 3-part class on using Word 2007 / 2010 that we run almost every month. CLICK HERE to check out latest schedule and see when the next class offering might be.
We also have a newly created eBook called Getting It Done with Word 2010 over in our online catalog. Although it focuses on Word 2010, it's also a great resource for Word 2007.
And as always, I'd love to hear any comments you might have. Just leave them below…
Happy Computing!!!
FREE eNewsletter Subscription
Wondering who you can trust when it comes to computer technology? Need answers that aren't full of techno babble? Sign up for the FREE DiscoverSkills eNewsletter