If you do any type of document creation on your computer, then you've certainly heard of Microsoft Word. It's by far the world's most popular word-processor, and lots of folks use it on a daily basis.
But there's one problem. Word does not come cheap. And for this reason many of my students have opted to go with one of the free alternatives to Word, either Apache Open Office (www.openoffice.com) or Libre Office (www.libreoffice.org).
But there's a problem there too. What if you share documents with someone else who DOES use Word, and you just need to Open, View, or Print Word documents without the need to actually create them?
Well, OpenOffice and Libre Office will open up documents from OLDER versions of Word, but not the newer Word 2010 or 2013 copies.
Well there IS a way you can Open Word Documents without Word.
And that's by using the free Word Viewer program from Microsoft.
Microsoft doesn't make a big deal about the Word Viewer, probably because they really just want you to purchase a copy of Word or better yet, Microsoft Office which includes Word.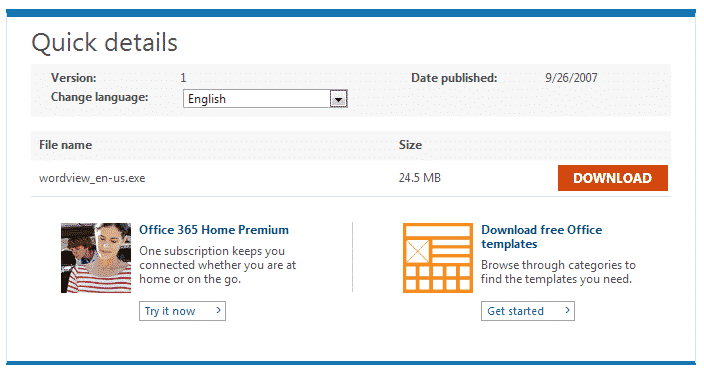 In fact, right on the page where you can download the Word Viewer they have ads promoting Office, and make sure that you know the Word Viewer will NOT let you create documents, only open, view and print them.
But the truth is that a lot of folks don't need the full-blown version of Word. They just need something that will every now and then let them open word documents without word.
Getting the program is pretty simple. First, you visit the Word Viewer Download page (CLICK HERE to visit that page), where you can read more about the viewer and also find a download button to get it.
From that page, you'll also see instructions on how to get the Microsoft Office Compatibility Pack which is another free program Microsoft provides for letting users of older versions of Word open the newer Word files. In this case, the pack upgrades the Word Viewer so that it can also open the new Word files.
Once you've downloaded and installed both the Word Viewer and the Compatibility Pack, you're set to go. Anytime you attempt to open a Word document, it will open in the Viewer.
And to make matters even better, the Word Viewer will open more than just Word files. Here are some of the file types it lets you open:
Word Document (.docx)
Word Macro-Enabled Document (.docm)
Rich Text Format (.rtf)
Text (.txt)
Web Page formats (.htm, .html, .mht, .mhtml)
WordPerfect 5.x (.wpd)
WordPerfect 6.x (.doc, .wpd)
Works 6.0 (.wps)
Works 7.0 (.wps)
XML (.xml)
So if you are someone who needs to open Word documents without Word, you now have your solution. Give the free Word Viewer a try!
As always, I'd love to hear about your own personal experiences with the Word Viewer and how you open Word documents without Word. Just leave a comment below…
FREE eNewsletter Subscription
Wondering who you can trust when it comes to computer technology? Need answers that aren't full of techno babble? Sign up for the FREE DiscoverSkills eNewsletter