For the Facebook classes that we teach at the Computer Education Center in Lincoln, Nebraska, Facebook has now made it very difficult for us to create "student accounts" that we can use during class time.
Because of this, we now ask students who are going to take the class, and do not yet have a Facebook account, to create one so that they can follow along with it during class time.
To help you get setup with a Facebook Account, here are some simple directions:
Open your web browser, and type  www.facebook.com  into the address box at the top of the browser window, then press ENTER.
When you reach the Facebook site, you'll see a Sign-Up area at the right side of the page (see the screenshot below)
Enter all of the information you see (First Name, Last Name, Email, etc.)
Click SIGN UP
When you do, Facebook will send a Confirmation Message to your email account. To complete the sign-up, you need to click the confirmation link inside that email message. Once you do, your Facebook account will be set to go.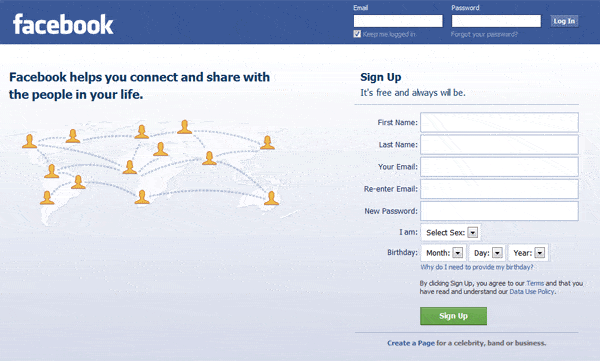 When you return to log into Facebook, enter your login information (Email and Password) in the boxes at the far, upper right corner (NOT in the Sign-up area).
NOTE: Sometimes for security reasons, Facebook will require that you enter a phone number to link to your account. This number is NOT given out to anyone, and is ONLY for Facebook security purposes.
If you have any questions about signing up, please feel free to leave a comment below, or drop me an email message…  jlortz@DiscoverSkills.com.