[Updated 07/31/2012] The time has finally come. Facebook has moved its new Timeline feature from "optional" to "mandatory" for most businesses, and now it's even becoming mandatory for everyone, even us common folks!.
In fact, as of today (07/31/2012) rumors have been floating all over the Internet that Facebook actually is now "forcing" some users to the Timeline, without any warning. I spent about an hour scouring the tech news sites for definitive information, but found nothing that said Facebook had made the Timeline mandatory. However, I'm seeing blog and forum posts all over the place, including here, of folks saying they were forced to the Timeline.
If you've had this experience, I would really appreciate it if you would comment about it below! A lot of folks are trying to find out what Facebook is really up to, and your post would be helpful!
I also just put together a quick Timeline Survey that I would love to have you take! CLICK HERE to take the informal survey.
BTW, although it's not directly Timeline related, Chris Matyszczyk over at CNET wrote an interesting article entitled "Why Facebook may soon cost you money", essentially saying that now with Facebook being accountable to stockholders, they have to make more money, somehow.  Guess what that "somehow" might be.
But back to the Timeline…
As I mentioned above, some Facebook users have received notices that their profiles were being changed to the new Timeline, and that they had seven days to clean and modify the profile information on their Timeline before it would be activated and made visible to their friends.  Now, Facebook seems to be close to really pushing things and just converting it over without even warning you.
Below I go into some basic things you should know about the Timeline, but first, here are a couple up-front resources for you…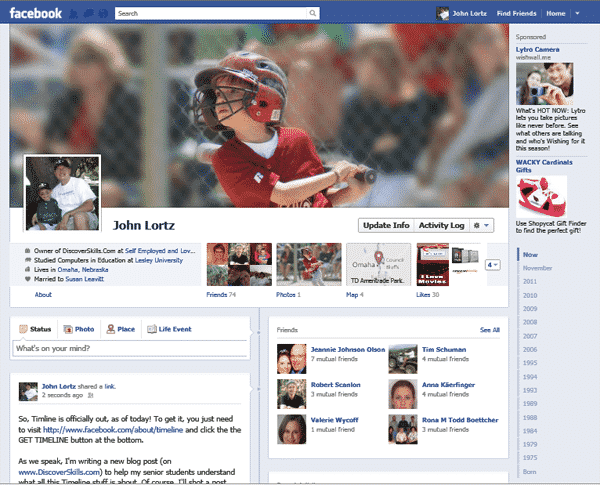 In essence, your Facebook Timeline is a "story of your life" that draws from your profile information, wall posts, and photographs. When friends click to see your profile, they are taken to a chronologically arranged page where scrolling down takes you backward in time.
And as I mentioned in the other article, I personally think the Timeline is very cool and a worthy upgrade for Facebook. Of course, there are lots of folks who don't agree with this, especially those who use Facebook for gaming and find that the new Timeline is cumbersome and makes their interaction more difficult.
But here's the deal… since Facebook is soon going to require that you switch to the Timeline, you might as well beat them to the punch and just do it on your own terms. You can change to the Timeline before they even contact you by logging into Facebook and going to www.facebook.com/about/timeline, and then clicking the Get Timeline button at the bottom right corner of the window.
As I've mentioned, once you've make the change, you'll have seven days to clean things up before folks can see it. And the change is NOT reversible.
Of course, what friends will see depends upon how much information you've entered into your profile, and as you view your own profile and mouse-over a posting (or as Facebook calls it, a "story"), options appear which allow you to edit or remove it from the Timeline.
And to editing the Timeline even easier, there is an Activity Log button just under your "cover picture" that takes you to a page listing ALL your activity with options to remove an activity from the Timeline.
Here are some other things to be aware of as you get your new Timeline ready:
After you make the switch, you'll first want to add a new "cover" photo. This is a picture that will display across the top of your Timeline page. In the screenshot above, you can see that my cover photo is of my son Jack, playing baseball. Keep in mind that unlike your Profile Picture (which you still have and is used as a thumbnail for your posts), the cover photo stretches across the entire top of the page, so you'll have more flexibility in using a larger picture.
Next you'll want to scroll down your Timeline and check all your old posts. As I've mentioned, you can mouse -over them to display an editing button. And since things are now arranged chronologically, you might want to edit any post or information dates that are not correct, so that they show up in the proper sequence.
Clicking the "Star" option for a post, makes it stretch across the page, which is great for "milestone" events in your life, or just to show-off something that is important to you.
If you click the drop-down menu next to the HOME button at the top of your Facebook page, and choose PRIVACY SETTINGS, you'll see an option down the page called MANAGE PAST POST VISIBILITY. Choose this and you can automatically make all your old posts visible to FRIENDS only, which is probably who most folks want to see their old stories.
You can double-check how your Friends will see things by using the VIEW AS tool. At the top of your new Timeline page, click the drop-down arrow to the right of the Activity Log button, and when you choose VIEW AS you'll see your Timeline as a Friend would see it.
Again, I've provided a lot more information about the Timeline in my other post called "Facebook Timeline – Your Facebook Profile changes for the better!".
And don't forget my newly created FREE guidebook called "An Introduction to the Facebook Timeline" that you can download. To get a FREE copy, CLICK HERE.
And as always, I'd love to hear your experiences or comments about the new Facebook Timeline. You can leave them below…
FREE eNewsletter Subscription
Wondering who you can trust when it comes to computer technology? Need answers that aren't full of techno babble? Sign up for the FREE DiscoverSkills eNewsletter