By now you've probably heard of them, but in case you haven't (and since they are still a popular method of fraud), I wanted to make sure you all know about "Fix Your Computer" scams.
What Happens
There are various forms of this scam, but here is typically what happens…
You get a phone call or email from what SEEMS to be the tech-support department of one of the big computer related companies (Microsoft, HP, Norton, etc.), claiming that there are problems with your computer (a Windows issue, virus infection, or something else).
They then say they can fix your computer for a price ($50 to $500), and have you pay via credit-card.
Then, some of the culprits actually access your computer and do things (like install malware), while others just take the money and run.
You end up out of money, and in many cases, with junk on your computer that you then must pay a local (and real) computer repair person to take off.
I've actually had some students in the past year that have been fooled by tech-support scams, and as we move ahead, it again seems like they are on the increase.
What to Watch For
With that in mind, here are some key facts about protecting yourself from scams like this.
The big computer companies will NEVER call you on the phone about problems you might have. If you get an unsolicited tech-support phone call, hang-up.
The big computer companies also RARELY email you about computer problems. If you do get an email from a computer company, instead of clicking any links in the email they might have sent, go directly to their web site or call their support line yourself.
Be aware that Scammers love to take current technology headlines about viruses or computer bugs, and use them to scare people into falling for a fraud scheme.
Scammers are also very resourceful at finding ways to know your name, address, phone number, and even the operating system you might be using. So again, don't be fooled by phone calls or emails that claim to know you.
As you browse the Internet, never trust pop-up ads promoting "fix your computer" programs or services. Also ignore any pop-ups that claim your "computer is slow" or "infected with a virus" or has any other problem.  These are ads just intended into scaring you into becoming a fraud victim.
Also Beware of Tech Support Pop-ups!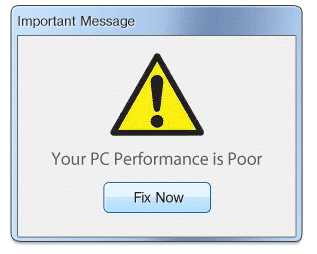 Besides contacting you by phone or email, tech support scams can also appear as pop-up windows as you're browsing the Internet.
In this case, as you are visiting certain web pages, a pop-up suddenly appears saying something about "your computer needs to be scanned" or "your computer is infected", or "your PC performance is poor", and then gives you a SCAN NOW or FIX NOW button to click.
Clicking the button starts a program download to your computer that when it's done, will infect your machine with something that you really don't want. Sometimes it really is a "fix-it" program, but often than not it's some type of malware or virus that does you harm.
Bottom-line is… never trust these pop-up windows. When the appear, simply "X" them closed. If you don't see any way to close the pop-up, try RIGHT-clicking on it and look for a close option. If worse comes to worse and you still can't close it, completely exit from your browser.
Fix It Yourself
If you really are having computer problems, your best bet is to find a local computer store or repair person that you can directly talk to.
[If you live in Lincoln or Omaha, Nebraska, drop me an email (jlortz@discoverskills.com) and I can suggest a few places for you to go]
If your computer is running slow, and just needs tuning up, I have another suggestion.
Do It Yourself!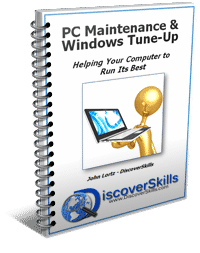 And here are a couple of resources you can use to do just that!
I recently updated my guidebook called "PC Maintenance & Windows Tune-up" which supplements a class I teach about the subject in Lincoln, NE. If you are interested in purchasing a copy, you can CLICK HERE to visit my Learning Store.
Download and use Glary Utilities from GlarySoft (www.glarysoft.com). It's an easy to use, very thorough utility program that helps you clean up your computer without having to know a lot of geeky facts and terms. I even have a Cheatsheet for it over in my Learning Store. CLICK HERE to see it.
The Bottom Line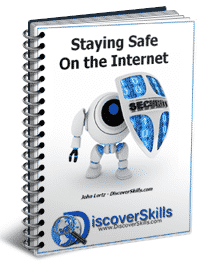 Whether we like it or not, computer-related scams are on the rise and starting to run rampant. And things are not likely to soon change.
The best thing you can do is never trust an unsolicited tech-support phone call, email, or pop-up ads that claims your computer is having problems.
And if you would like more information about keeping your computer safe – CLICK HERE to read more about my book, called "Staying Safe on the Internet".
As always, I would love to hear your comments about the subject. You can leave them below!!!