[Updated 9/17/2017 – About the Kaspersky rumors of misbehavior – If you read about all the different accusations the media (and some in our government) have made about Kaspersky Lab, the one thing that's lacking is any real evidence they've done anything wrong. CLICK HERE to read a great article on the subject by Neil Rubenking over at PC Magazine. For this reason, I personally still think Kaspersky is a great Antivirus tool.  BUT… if you're not comfortable because of all the rumors, by all means, go to one of the other Anti-virus products!]
2016 was another banner year for online threats (viruses, malware, scams, etc.), and there are lots of predictions that 2017 will most likely be worse.
The fact is, it's becoming increasingly hard to keep your computer and personal information safe, even if you take all the normal precautions (which I go through below).
How frustrating! I hate seeing my students struggle as their computers get infected and then end up having to pay a geek to clean them off!
I'm afraid that I don't  have any "magic solutions", but I do have some important suggestions that I want to pass along to you, including my latest recommendations on good Anti-Virus programs and Malware checkers.
But first, let me start with my list of Top Safety recommendations for 2017…
My Top Internet Safety Recommendations for 2017
If you compare this list to the one from last year, not much as changed. For the most part, I've been preaching the same safety advice for the past seven years. And although there's no such thing as being 100% safe, if you follow these tips you'll be as safe online as anyone can be…
Install a good

Anti-Virus or Internet Security program


Below, you'll see my suggestions for 2017.
Make sure your Windows Firewall is up and running


You can open the Firewall window from the classic Windows Control Panel. It should be automatically turned on, but it's a good idea to check it now and then. (With Windows 10, RIGHT click the Start Menu button, choose Control Panel, and then look for the Windows Firewall icon).
Make sure your Windows Updates are happening


With Windows 10, updates are pushed at you automatically (you have no choice), and although earlier versions of Windows should have updates set to automatically happen, you might want to double-check.

In Windows 10, click the Start button, choose Settings, and then Update & Security. On the left menu, click Windows Update and notice what it says under Update Status.In Windows 7, Open the Control Panel, and click System and Security, then choose Windows Update, and on the left menu click Check For Updates.
Make sure you are also updating Adobe Reader, Adobe Flash, and Java (if you have them)


Of all the programs you might have on your computer, these three are particularly big targets for Internet hackers to exploit. For the reason, Adobe and Oracle (the companies that make these programs) regularly release updates that fix security problems, and when you see the small pop-up window appear (at the lower left side of your desktop) telling you updates are available, you should get them.
Make sure you create strong passwords for your online accounts


Most security experts that I've talked to agree that the most common reason online accounts get hacked is because of weak passwords.A good password is one that is nonsense (i.e. uses no common words), and contains numbers, special characters, and both upper and lower case letters.A trick I use is to pick a phrase from a favorite song and use the first character of each word, turning certain letters to numbers (such as an "i" into a "1", or a "s" into a "5"), and then adding a special character and a number to the beginning and end.

Use different passwords for each of your online accounts


This is a tough one, since it gets hard to remember a lot of different passwords. But if an account does get hacked or there is a data breach and your password is exposed, hackers may use that same password to try and get into your other accounts. To help you use different passwords you might want to try a free password manager such as LastPass.

(CLICK HERE to visit the LastPass site).
Consider using Two-Factor Authentication


Many of the site you routinely log into (such as Google, Facebook, etc.) allow you to turn on two-factor authentication, where instead of just using one way to prove to them who you are (your password) you have to use two ways. Most commonly, you give them (1) your password, and then (2) type in a random code that has been sent to your via your cell phone. The methods used depend upon the particular service, but for your most important accounts, you might want to check to see if two-factor authentication is an option.
Only enter private information on web pages that are secure
As you fill out information on a web page, such as when you are shopping online, always make sure the page is secure.With a secure page, the information you enter is encrypted before being transmitted across the Internet.You can tell if a page is secure by looking for "https://" at the beginning of the URL (web page address) which you can see at the top of your browser window. You'll also see a "padlock icon" somewhere at the top or bottom of the browser you're using.
Never click a link in an email that seems to be from a financial institution


The term "phishing" refers to emails that look to be from a legitimate source (such as your bank), but in reality are fakes sent by a hacker. If you click a link in a phishing email, it will typically take you to a fake web site which looks very legitimate, but behind the scenes will steal your private information if you type it in.
Never click on a "fix your computer" banner or pop-up ad as you are browsing the Internet
There are many legitimate companies offering PC Fix-It programs. The problem is, many of the pop-up advertisements for these types of programs are actually the bad-guys enticing you to download a fake fix-it program that will somehow exploit your computer.If you need a fix-it program, visit a known legitimate source for one, or purchase it through the Windows App Store. By the way, my favorite fix-it program is Glary Utilities, which you can download for free from www.glarysoft.com.
Never talk to anyone who calls you claiming your computer needs fixing.


Ok, this is not Internet related, but it still involves your computer being exploited. The past few years there has been a huge increase in the number of scammy phone calls telling you that your computer needs fixing, and that if you pay them, they can do it.  Some even claim to be from Microsoft… but they are NOT!  Don't ever trust these calls. Just hang up on them and go on with your life!
Only download from reputable web sites


If you are someone who likes to download software, make sure you do it from sites that you know. My favorite place for downloading software (besides the Windows 10 App Store) is from CNet's Download.com.
Always make backups of your important files


When all else fails, and your computer either gets infected or exploited, having a backup of your important files might be the only thing that saves you. I'm not one that suggests you back up your entire computer, but instead, teach that you should backup those files that you have created (documents, pictures, etc.) and can not be replaced.

Routinely check your email address at "Have I Been Pwned"
When data breaches happen at stores like Target, Home Depot, or on web sites like Yahoo or Dropbox, there's a chance your information has been compromised. When this happens, hackers sometimes post your information on hacker sites, and that's where "Have I been pwned" comes in. This site collects information from hacker site posts, and allows you to search the data using your email. If it finds a match, it shows you which companies (sites) your email was compromised on, so that you can go to that company site and fix things (i.e. change your password). CLICK HERE to visit Have I Been Pwned.
But in addition to these, I'm also again suggesting VIGILANCE, which includes (and yes some of these are repeats from above)….
NOT clicking on pop-up windows that appear as you're browsing the Internet.
NOT opening email attachments that come from people you don't know.
NOT talking to "tech support" people that cold-call you saying your computer has problems.
NOT downloading programs from sites you don't know
Now let's focus in on my suggested Anti-Virus/Internet Security software.
Stand Alone Anti-Virus versus Internet Security Suites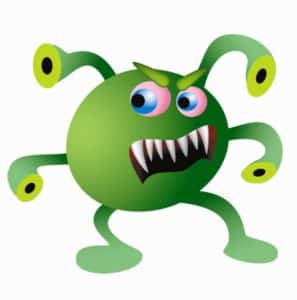 Before I give you my 2017 picks for Anti-Virus programs, let me explain the difference between a standalone Anti-Virus program, and what most companies call an Internet Security Suite.
Anti-Virus Program – This is software that focuses on protecting your computer from viruses, and that's it. It doesn't include the extra "utilities" that a Suite includes. But keep in mind that although it's called "Anti-Virus", these programs also protect you from other bad-things, including rootkits, trojans, adware, spyware, ransomware, and malware.
Internet Security Suites – These programs are Anti-Virus programs, but also might include other utilities and features, including a firewall, backup, PC tune-up, multiple device protection, parental Internet controls, privacy protection, password management, etc.
Many companies offer three levels of security software, starting with an (1) Anti-Virus program, then moving up to a (2) basic security suite (that perhaps adds in a firewall and backup), and finally (3) an advanced suite that includes all the bells and whistles I mentioned above.
In my opinion, most typical home users really only need a stand-alone Anti-Virus program.
I say this because Windows users already have a built-in Firewall (Windows Firewall) which works perfectly well, and you can find "free" solutions to the other utility programs (such as backup and PC tune-up) that Internet Security Suites provide.
However, if you watch the pricing of both standalone Anti-Virus programs and Suites on Amazon.com, you can often find the Suites priced almost the same as the standalones.
So in summary I'd say that you would be perfectly fine in just getting a standalone Anti-Virus, but if the price is close enough, maybe step-up to a basic Internet Security Suite that also includes a firewall.
My 2017 Picks for Anti-Virus and Internet Security Suites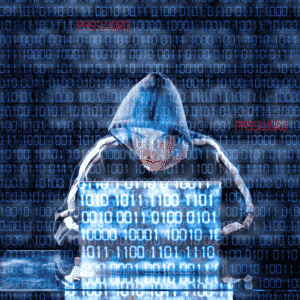 Now that I've gone through the entire safety list and explained the difference between standalone Anti-Virus programs and Internet Security Suites, let me offer my program picks for 2017. I'll break them up into 3 types… Standalone, Suites, and Free.
Note that the prices I include are the full retail price, but I also include the current lowest price either from the company itself or from Amazon.
Drum Roll Please!
Standalone Anti-Virus
Bitdefender Antivirus Plus 2017
$59.95 (for 3 PC's for 1 year) –  lowest price was $29.95


Bitdefender was one of the programs I personally started using two years ago, after throwing aside Norton 360 (when Symantec decided to change directions). If you look at the online reviews from PC Magazine, CNet, PC World, and others, it's always rated toward the top. But it's interesting to note that on Amazon, customer reviews haven't been the best. Not sure why the discrepancy, but in my own "home tests", I've found it easy to use, reliable, and compared to many programs I've used in the past, it doesn't slow down my computers.
Kaspersky Antivirus 2017
$59.99 (for 3 PC's for 1 year) –  lowest price was $19.95


This is another program I switched to last year, and I'm currently using on 2 home computers. Years ago (back in the early 2000's) I wrote a review of Kasperskys for Smart Computing Magazine. At the time, I found the program cumbersome to use, and wasn't very impressed. But over the years it's risen up the ranks and today is often rated at the top of the review lists, and now has a user friendly interface.

[Updated 9/17/2017 – About the Kaspersky rumors of misbehavior – If you read about all the different accusations the media (and some in our government) have made about Kaspersky Lab, the one thing that's lacking is any real evidence they've done anything wrong. CLICK HERE to read a great article on the subject by Neil Rubenking over at PC Magazine. For this reason, I personally still think Kaspersky is a great Antivirus tool.  BUT… if you're not comfortable because of all the rumors, by all means, go to one of the other Anti-virus products!]
Internet Security Suites
Bitdefender Internet Security 2017
$79.95 (for 3 PC's for 1 year, key only) – lowest price was $39.95


In addition to what I said about the Antivirus program above, this program adds in a quality firewall and some other utilities, and is considered their "basic" suite. I've had this running on one of my home computers, and I've been super happy with it.
Kaspersky Internet Security 2017
$79.99 (for 3 PC's for 1 year, key only) – lowest price was $39.95


Again, refer above to what I said about the Anti-Virus program. As with Bitdefender, the suite adds in a nice Firewall and a few other utilities.
Symantec Norton Security Deluxe
$89.95 (for 5 devices for 1 year, download) – lowest priice was $39.95


Back in the fall of 2014, I ended my long relationship with Norton 360 (Symantec's Internet security suite) when Symantec announced they were abandoning the program to focus more on corporate America. In early 2015 they came out with what I (and many others) thought were weak replacements for their traditionally strong home-user security programs. But late in 2015, they again came out with updates that so far, are getting good reviews. It's for that reason that I've added this program to my pick of Internet Security Suites.
Free Anti-Virus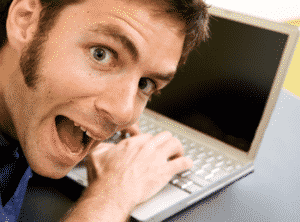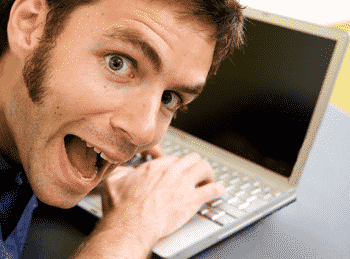 I would be amiss not to include my picks for Free Anti-virus programs, since for the most part, the free programs provide the same Anti-virus protection quality that the pay-for versions do.
In most cases, the difference with the free versions is that you get little, if any, technical support, and they don't include any extra utilities (such as a firewall).
In other words, they have the same "core engine" that the commercial versions have, but are pretty bare-boned when it comes to features.
Would I use a free Anti-Virus program?
Well, in our Lincoln, NE, computer lab, we use the free version of AVG, and have had no problems with it.
BUT, I would also suggest, that with the great prices for may of the commercial versions on Amazon, you might want to consider a pay-for program, just to get the added support and features.
I'll leave that up to you!
Here are my picks…
AVG AntiVirus Free (2017) – get it at free.avg.com


I have used AVG free on various computers since 2007, and have never been disappointed. One thing to note, however, is that when you download the free version, make sure that when you install it, you do NOT choose the "trial" version of the commercial program.  Just pay attention to the screen, always choose the FREE version, and you'll be fine.
Avast Free Antivirus (2017) – get it at www.avast.com
Although I've not personally  used Avast for quite a few years, the program consistently ranks high among most reviewers, so I've included it here.
Bitdefender Antivirus Free Edition – get it at www.bitdefender.com/solutions/free.html


Compared to the other two free Anti-Virus programs, Bitdefender does not offer as much "manual control". However, the reason many reviewers and users like it so much, is that it silently works in the back ground and does a great job with no intervention by the user.
What about Windows Defender (which comes free with Windows 10)? In the past, Defender was always shown to under perform when compared to the free anti-virus programs I mention above. However, with the Windows 10 update that happened in November, 2016 (the Anniversary Update), Microsoft has made some improvements that are causing the experts to take notice.
Would I use Windows Defender? Well, since it's automatically part of Windows 10, it IS easy to use… and certainly better than nothing at all. But I'm still not ready to personally recommend it over the programs I mention above.
And Don't Forget Malwarebytes…

All the Anti-Virus programs I've mentioned above also take care of malware and adware. However, as an added precaution, I think it's a good idea to also download and install the free anti-malware scanner, Malwarebytes.
Unlike Anti-Virus programs, Malwarebytes does NOT run in the background as a memory resident program. Instead, you manually run the program on a regular basis, letting it scan your computer for malware that your Anti-Virus program might have missed.
I personally use it on a weekly basis (if I remember to).
You can Malwarebytes by visiting www.malwarebytes.org.
More Resources on Internet Safety
If you'd like more information about staying safe, I have a list of other articles I've written on the subject.
CLICK HERE to see DiscoverSkills articles on Staying Safe…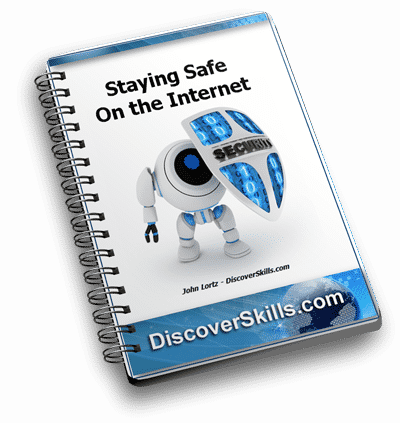 I also have a book I use for my safety class called "Staying Safe on the Internet".
 CLICK HERE to read more about the book
As always, I would love to hear your comments about the subject. You can leave them below!!!