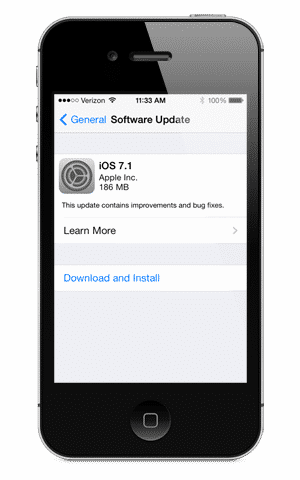 This past Monday, March 10th,  Apple released a fairly significant upgrade to their iOS software, moving from version 7.04 to 7.1.
How significant is the upgrade?
Well, it kind of depends upon how you look at it.
No, there aren't any earth-shattering changes in what you see or do like there were when you want from iOS 6.x to iOS 7.0.
Rather, I think this update was more to fix a few bugs and resolve a few issues that hounded the original release of iOS 7.0 which some tech writers felt was rushed to the market to match the release of the iPhone 5s last year.
Still, there are a number of tweaks and feature changes that are worth mentioning. Here are the ones that Apple actually lists when you tap "Learn More" on the upgrade screen.
iOS 7.1 Changes
CarPlay – a feature that connects your iPhone to CarPlay enabled systems in certain cars, so that through a car interface screen, you can access your phones music, maps, messaging, and other 3rd-party audio apps.
Here's a YouTube video from Volvo, showing how it works with one of their cars…
Click the video below to play…
The button at the lower right
lets you go FULL SCREEN —>>>

 

Siri

– To access Siri, you still press and hold the HOME button, but now if you continue to hold the button after Siri appears, it tells Siri you are not yet done talking. Hold the button for as long as you need to talk, then when you release it, Siri knows you are finished and answers your question or command.Some of the Siri languages are now more naturally sounding.
iTunes Radio – Includes new features to buy albums from the Now Playing screen, and includes a search field to create new stations based on a favorite artist or song.
Calendar – You now (again) have the "List View" from the month view and country specific holidays have been added for many countries.
Accessibility  – The bold font option now also includes the keyboard and calculator. Reduce Motion option now includes the Weather and Messaging apps and multitasking animations. There are also new options to display buttons shapes, darken the app colors, and reduce the white point.
Camera – iPhone 5s users can now automatically enable the HDR mode.
iCloud Keychain –  now supports more countries.
Touch ID – Improved fingerprint recognition.
iPhone 4 – improved general performance.
Fixes – a bug that could occasionally cause a home screen crash. Fixes display of Mail unread badge for numbers greater than 10,000.
So as you can see, yes, there are a few decent changes, but nothing that I would say merits dropping everything you're doing to do the upgrade.
So, SHOULD you do the upgrade?
Yes.
Just as I tell students that it's important to upgrade Windows when new patches and iterative updates occur, I also believe it's a good idea to update your mobile OS (both iOS and Android) when updates are released, for the sake of security!
To prove my point, CLICK HERE to see Apples description of the "Security Content" of iOS 7.1.
If you read down this page, you see fix after fix that addresses the repair of something that could have let malicious code do something dastardly.
How to do the Upgrade…
If you haven't yet performed the upgrade, here's how it's done.
[NOTE: The upgrade is available for iPhone 4 and newer, iPad 2 and newer, and 5th Generation iPod Touch devices]
Since upgrades are typically fairly large in size, it's a good idea to do the upgrade when you have a good Internet connection (which for most of us, is when we are at home).
Start the SETTINGS app.
Choose GENERAL.
Choose SOFTWARE UPDATE.
Your device will check online for any updates, and then display a screen (like the one you see at the top of this article) if there is one available.
Choose DOWNLOAD AND INSTALL
A License Agreement screen will appear that you must agree to.
At this point, your download will start and you'll see a progress bar appear.
During the process, it will download iOS 7.1, install it, and then restart your iPhone or iPad.
I upgraded my iPhone 4s the day iOS 7.1 came out, and have had no problems.
As always, I would love to hear your comments about the subject.  You can leave them below!!!
FREE eNewsletter Subscription
Wondering who you can trust when it comes to computer technology? Need answers that aren't full of techno babble? Sign up for the FREE DiscoverSkills eNewsletter