As professional educators, the staff at DiscoverSkills works hard to provide you with the best possible learning materials, creating them with an eye toward making the complicated simple, and the overly technical, easy to understand.
And although we provide a lot of our technology information to you on this site for free, we do have special Books, video courses, and class webinars that we sell to help promote our program.
That's what you'll find here in the DiscoverSkills Learning Catalog.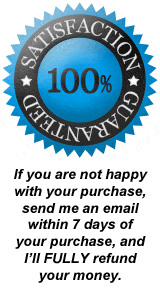 For all of our learning products, we accept credit card payments (using PayPal), but also provide a way you can pay for materials using checks or money orders. And for our digital products, once you have checked out, we give you INSTANT ACCESS to your new materials which are found in a secure area on this web site.
If you have any questions as you browse the catalog, or have any questions about purchasing, please contact me (John Lortz – jlortz@DiscoverSkills.com). You can also use this address to to contact me about purchasing via a check or money order instead of using PayPal.
NOTE: All of our eBooks come as PDF files that you download. In order to read the PDF on your computer, you'll need the free Adobe Reader program, which your probably already have, but can get by clicking here.
Click the books or links below to visit a page that tells you LOTS more about that particular book…



This is our "master" computer book with over 130 pages that focus on the important things you need to know about your computer and Microsoft Windows.

We use the book as a supplement to three of our most popular classes: The Computer Basics Series, Using Windows 7, and Working with Files and Folders.

But the book stands on it's own in helping both new and veteran PC users get the most out of their computers and Windows.

 

If you're new to Apple touch devices, then it can be a bit daunting to know what to tap, flick, double–tap, or swipe to get the job done. And then there's all those apps and icons to deal with, let alone figure out how to connect your device to the Internet.

That's where our Using Your iPad & iPhone book comes in. Whether your new to touch devices or just want to fill some "self-taught-gaps", this 100+ page book guides you through all you need to know.

And not only does the book cover the latest Apple iOS 6 version, but it also had a big section on how to use iTunes to REALLY take control of your device.

 

Did you know that there are now over one billion people using Facebook each month? Yes, that's "billion" with a B.

Well, if you're one of those billion, there's a good chance you're not getting as much from Facebook as you should. And a lot of that has to do with all the changes Facebook has recently made (such as the Timeline) and all the little tips and tricks they don't tell you about.

In this book, which supplements our local Facebook class, we get you up to speed with all of Facebook's features, including the Timeline, how to navigate to where you need to go, and the new Facebook photo pages look.

And of course, we also give you lots of suggestions on how to stay SAFE on Facebook, and keep all your personal information, personal.

 

Back in the "old days of film", the darkroom was a place where only photo geeks ventured, hoping for the best as they watched pictures appear in a tray of chemicals.

My how things have changed! Now anyone with a computer can have their own digital darkroom. No more chemicals, just mouse clicks that can make any "good" picture look "great".

But how do you get started?

That's what our digital imaging books are all about. In the first book called "Working with Pictures on Your Computer", we cover important digital photo concepts and jargon, and show you basic photo enhancement techniques. We even provide tips on how to scan old prints and negatives.

The second book, called "Fixing, Enhancing, and Restoring Photos" takes you beyond basic photo editing into the world of photo enhancement and restoration, where you learn how to get the perfect exposure, remove imperfections, fix color issues, and even combine the best parts of two pictures into one.

 

The days of film cameras are gone. And as much as we loved our film, the world of digital photography and digital cameras is here to stay.

But don't worry! The new digital cameras are still "point and shoot" like our old Instamatic's were. But have you noticed that THESE point and shoot cameras also seem to have a lot more buttons and knobs than the old Instamatic? They sure do!

The fact is, your digital camera has professional-level features that when used, can take your pictures to new levels of quality and fun.

And in our Guide to Using Your Digital Camera we show you what those special features are and how to use them to take the best pictures possible. Plus, along with way we'll teach you some great photography tips and perhaps even turn you into a budding photography geek!

Picture Goes Here
Staying Safe on the Internet – www.discoverinternetsafety.com
Picture Goes Here
PC Maintenance & Windows Tune-Up – www.discoverpctuneups.com (not yet created)
Picture Goes Here
Buying and Selling on eBay – www.discoverebay.net (not yet created)
Picture Goes Here
Getting It Done with Microsoft Word 2010 – www.discoverwordprocessing.com (not yet created)
Picture Goes Here
Creative Word Processing – www.discoverwordprocessing.com (not yet created)
Picture Goes Here
Getting It Done with Microsoft Excel 2010 – www.discoverspreadsheets.com (not yet created)