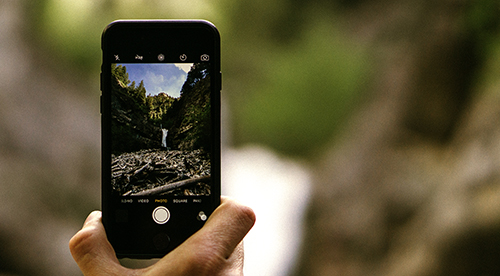 With the annual release of a new set of Apple iPhones, I always get questions from existing iPhone users whether or not they should upgrade.
The real question here is "Are there enough important differences between the phone I have and the new iPhone to justify what it will cost?"
I'm not going to do a comprehensive comparison of the models here, but instead focus on what I think are the core features that give you a general idea of the differences between the models.
Then if you think it might be worth upgrading, you can dive deeper using the links to other reviews I have at the end of this article.
A Comparison of Features
To get started, here are 4 summary tables of the major differences between the most recent iPhones.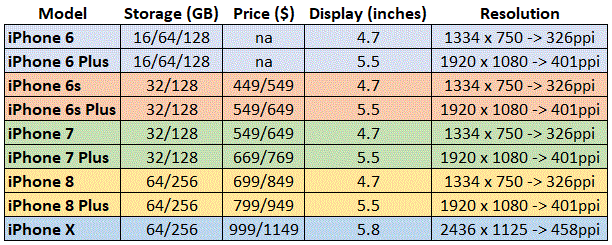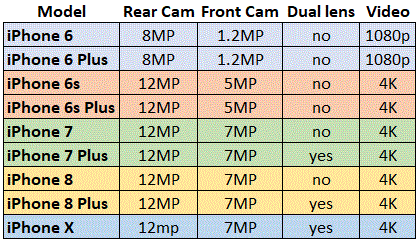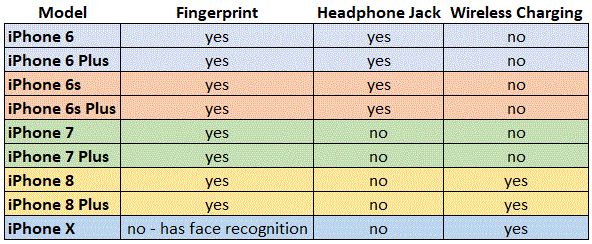 Here are some takeaways from the table:
Screen size (measured diagonally) and resolution hasn't changed much in the past 3 years.
Weight also hasn't changed much, although the iPhone 8 is actually a bit heavier than the iPhone 7.
All the current phones have fingerprint sensors, but the new iPhone X has face recognition.
Each generation has a newer, faster processor. Apple claims the iPhone 8 is 25% faster than the iPhone 7.
Although the camera resolution hasn't changed much, the iPhone 8 uses a newer sensor that is supposed to give better color and better low-light performance. And in the Plus version, there is a new dual sensor that is supposed to give cleaner portrait shots.
Although the table doesn't show it, the speaker system on the iPhone 8 gives improved stereo and 25% louder sound.
So should you upgrade?
In my world, upgrades make sense in situations where your existing phone just won't do what you need it to do, or if your current phone is starting to have problems (i.e. battery won't charge, lock-ups, etc.).
With that in mind, here are some simple comparisons between the older iPhone models and the new iPhone 8.
iPhone 6 to iPhone 8
The iPhone 6 is still a great phone. My two family members are still using an iPhone 6, and are quite happy with them.
(I would also still be using an iPhone 6, but the battery on my phone began to fail, and so I was forced to get a new iPhone 7 about two months before the new iPhone 8's came out)
That being said, upgrading to an iPhone 8 will give you quite a bit more speed, a better camera, better speakers, more storage, and a front facing camera that is 7MP.
It might be worth it.
iPhone 6s to iPhone 8
The iPhone 6s is also still a great phone, and there are fewer big differences between the 6s and the 8 as there were for just the 6.  But you do get a faster processor, better stereo sound, and more storage.
If my iPhone 6s were working OK, I'd probably stay with it, unless using the phone is a camera were a big deal. In that case, going to a better low-light camera on the iPhone 8 might be worth it.
iPhone 7 to iPhone 8
This is where the changes really drop  off.  Yes, the iPhone 8 will give you a small speed boost, and the camera is supposed to have a better sensor for pictures, but in my honest opinion, I just can't see enough of a difference to fork out the money.
What about the iPhone X?
The iPhone X (10) has everything the iPhone 8 Plus has (faster processor, wireless charging, dual-lens camera) except for the larger display. What makes it different is that it has an edge-to-edge OLED display with a resolution of 2436 x 1125. And although it has no Home Button and fingerprint reading, it has a new Facial Recognition technology to use in place of fingerprints.
But the price is a killer. The base model with 64GB of storage is $999, with the 256GB model running $1149. Added to that is that Apple is limiting production of the unit, which means it will be hard to come by.
It's obvious that Apple is positioning the iPhone X as a luxury phone that will most appeal to those who make it a priority to keep up with the Joneses.
And although I've not held an iPhone X in my own hands, I honestly can't say that I would make the purchase even if I could justify the cost.  I just don't see enough of a feature improvement to compel me to do so.
Some online authors have argued that you should purchase an iPhone X, just because you probably spend a large portion of your day working with your phone, which justifies spending money on the best experience you can get.
In some situations, that logic makes sense. But considering the quality and usability of the lesser iPhone 7 and iPhone 8 models, and even the older iPhone 6, I don't think that big jump in price is justified.
But I'll leave the ultimate choice up to you!
For more in-depth review information…
As I close, here are a few iPhone reviews where you can get more information:
Happy iPhone Hunting!!!