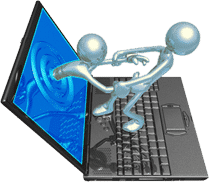 On a regular basis, DiscoverSkills conducts free webinars that you can attend from the comfort of your home, just sitting in front of your computer. These webinars, which typically run for about an hour, cover a wide range of technology topics, and even include a way that you can ask questions by typing them in on your keyboard.
As an added service, we record each webinar and make that video recording available to your here to view as often as you like. And for selected webinars, we even offer written transcripts that you can read or print.
And for those who are not sure what a webinar is, we've included a short video tutorial entitled "What is a Webinar?" that will help get you up to speed. Plus, we have a video tutorial on how to use AnyMeeting (formerly called Freebinar), the webinar service that we use.
Finally, if you would like to be put on our free eNewsletter mailing list so that you are notified about future webinars, click here and fill out this free subscription form.
As always, if you have any comments, questions, etc., please leave them in the comments area beneath each video.