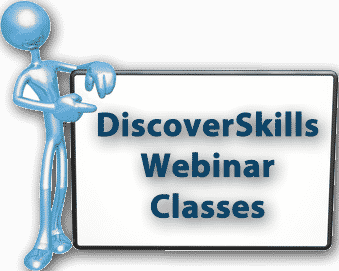 Without a doubt, one of the best ways to take advantage of our technology learning materials is to take a class, in-person, at the AgeWell Computer Education Center in Lincoln, Nebraska.
You can find a schedule of all our in-lab classes by clicking here.
But that's not always possible, especially for those of you who have found us from somewhere in the world via the DiscoverSkills web site.
So we came up with an idea. Why not take some of our most popular classes, and offer them as "webinar classes"? But there are problems with regular webinars…
If you are familiar with "webinars" you know that they are live web broadcasts offered at very specific times, using software that is often plagued by sound problems and choppy video.
Now don't get me wrong, I love webinars… but for classes we needed something that was more flexible, less prone to problems, and let us offer the same class more than once a week at different hours of the day.
Regular webinars just didn't give us those features.
But, we found something that did… and we are calling them DiscoverSkills Webinar Classes.
Here's how the classes work:
You choose the class you want to attend from the Class Schedule on this page.
You register for the day / time that best fits your schedule.
You get a confirmation email message that includes a link to the Class page.
The email also includes a link to download the class handout.
The day of the class, you get a class reminder message 15 minutes before the class starts, that also includes a link to the class page.
The class starts promptly at the scheduled time.
During the class, you'll see video window with my presentation, and hear me through your speakers.
Below the video is a Chat Box where you can ask questions and post comments.
To the side of the video you'll see a list of other students also attending the class.
Sometimes, during the class, there will be additional handouts for you to download below the video.
Classes will normally last about an hour.
During the week, I will collect the questions that are asked at the various class sessions, and create a special Q&A Response video that only class participants will be able to view.
You will also have access to a recording of the class that you can view at any time.
That was pretty long winded, but the reality is, it's a simple class system that has a LOT of benefits…
All you need is an Internet connection and speakers.
Attend class at a convenient date and time.
Attend class from the comfort of your home.
Get all the regular handouts we provide in our in-lab classes, and even get them electronically so that you can read them on your computer OR print them out.
Have access to a recording of the class that you can watch again and again.
Have access to questions and answers that you can watch again and again.
So… are you ready to get started? Our first FREE Webinar Class will be offered starting on Friday, September 9th at 7:00 PM. Class registration will be available just after the Labor Day weekend.
If you would like to be put onto a special mailing list, and notified when the registration page is ready, just send a message to jlortz@discoverskills.com.
I can't wait to get started!