By now you may have heard that a particular version of the very popular PC "cleanup" tool called CCleaner, was hacked.
In this case, hacked meant that someone was able to add a "malware payload" to the CCleaner installation program so that when you or I downloaded it from the CCleaner web site, the malware rode along and was installed.
Piriform, the company that owns CCleaner claims that over a million users download it each week which potentially makes the malware infection a series matter.
But the good news is, only one particular version of the CCleaner software was infected:
The 32-bit version (not the 64-bit version) of CCleaner Version 5.33.6162 (or CCleaner Cloud 1.07.3191) that was released on August 15th, 2017.
You can check which version you have by starting the CCleaner program, and then looking at the upper left corner of the screen.
Here is an actual shot I took of the version of CCleaner I have on one of my computers. Notice that is IS the version number that was infected, but since I'm running the 64-bit version, this copy is NOT infected.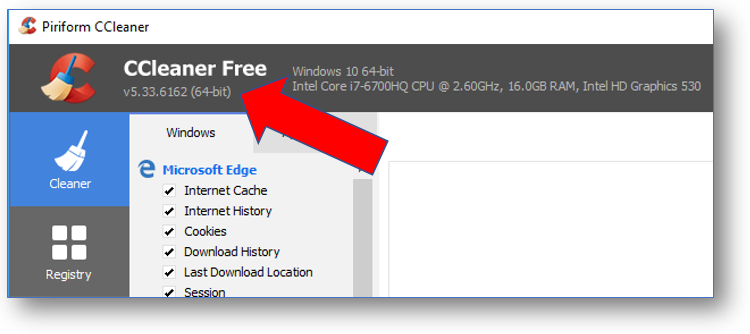 What If You're Infected?
According to Avast, the infected version of CCleaner attempts to transmit your computer name, IP address, your installed software, and other computer-related information to a server in the United States. Beyond that, there have yet to be seen any ill-effects or privacy invasions.
If you do have the infected version, Piriform and other security experts recommend you take the following steps:
Uninstall the version you have.
Run manual scan using your anti-virus program. You might also want to download a program like Malwarebytes (CLICK HERE to visit the download page) and scan your computer.
Visit Piriform to download and install the latest version of CCleaner (CLICK HERE to download the latest version). 
By the way, although CCleaner has always been known as a great, free PC cleanup program, in the Windows Clean-up classes that I teach, I have for many years used an alternative program called Glary Utilities.
If you are a user of PC clean-up programs, this might be a good time to check it out.
CLICK HERE to visit Glarysoft. http://www.glarysoft.com/
If you are interested, here are some good information sites that talk more about the CCleaner hack…