For years, Dragon Naturally Speaking has been the go-to-program on the PC for converting spoken words into text. In the early days, the software was quirky and you had to do a lot of training (speaking specific sentences into the microphone to help it learn your voice) to get it to work right.
It was almost more hassle than it was worth.
But today things have changed.  Now the software is easier to use, takes little up-front training, and does a great job of translating whatever you say into typed text in your favorite word processor or email program.
My son Jack (who is dyslexic) uses it all the time for school papers. Yes, he's a good typist, but he has difficulty spelling. With Dragon he can simply speak his mind into the computer microphone without having to worry about spelling mechanics and having his though-process interrupted.
And the more he uses it, the better it gets at knowing his voice and his particular voice inflections.
Dragon Dictation is really great.
But that greatness comes at a price.  The version that Jack uses (which has all the best bells and whistles) costs about $130.00, although there is a "home edition" that's about half that amount.
But I have good news for those of you who have an iPhone or iPad (or even an Android device), and would just like to trying playing around with this voice to text stuff. Dragon has a FREE app for iDevices called Dragon Dictation that gives you the ability to dictate short notes that are great for email, text messaging, Twitter feeds, or Facebook posts.
I even use it in my car to capture brainstorms as I'm commuting from Omaha to Lincoln to teach classes.
And that's why I've added Dragon Dictation to my Favorite Apps list!
To give you a better idea of what the app is all about, I've put together this short video.  Click on the image below to take a look…
Dragon Dictation App
Click the lower-right corner button (above) to go Full Screen—>>>

Once the video starts playing, click the "gear" button (above) to change the video quality—>>>

As always, I'd love to hear about your own personal experiences with this App or any fun Apps you run into. You can leave your comments below!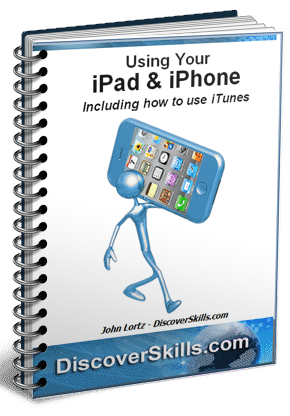 And don't forget, you can CLICK HERE to learn more about the Using Your iPad & iPhone book which has all kinds of tips, tricks, and how-to's on using your iPad and iPhone.
The book was created as a supplement for our very popular Using Your iPad & iPhone classes held at our Lincoln, NE, computer lab, but it's also a great guide for anyone who wants to learn more about how to use their iDevice.
FREE eNewsletter Subscription
Wondering who you can trust when it comes to computer technology? Need answers that aren't full of techno babble? Sign up for the FREE DiscoverSkills eNewsletter