Since April of this year, I've had a blog article on DiscoverSkills.com about the Facebook Timeline that's been getting a lot of Google search traffic. (CLICK HERE if you'd like to read it).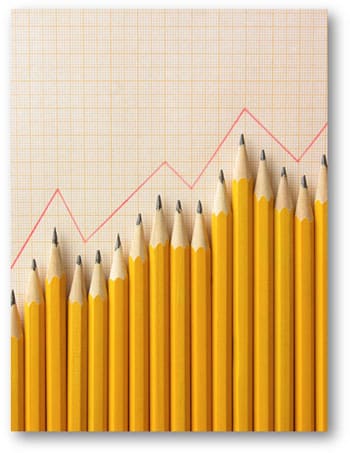 In the last 28 days alone, over 11,000 visitors have read the article, and even for the past week it's still been averaging about 500 hits a day.
It's great to have an article noticed and read, but there's also a side benefit that's kind of fun.
Each time someone pulls up the site page, a tracking service I use collects information about that person.
No, I don't get any PRIVATE information like name, address, or phone number, but I do get information about the technology they are using to view the page.
And that's the part that's kind of fun. The captured statistics give me a chance to see a snapshot of what folks are currently using for their web-based technology.
Is this information useful? To some degree, yes it is, especially as I work on the design of the DiscoverSkills site. Knowing how people are viewing pages helps me make sure the site is properly formatted (page width, graphic size, etc.) so that folks can best see things.
But as I was looking through the numbers this morning, it dawned on me that perhaps you guys… my site visitors and computer students… might get some benefit from seeing what OTHERS are using for accessing the web.
Now, please understand that I'm not showing you these numbers to influence you to change your technology habits to what the majority of OTHERS are doing. I'm showing them so that you can get some perspective of how "what you are doing" fits into the bigger scheme of things.
So here we go…
In the following sections you'll see what the 11,063 site visitors to DiscoverSkills were using for technology, for the time period of July 18th to August 14th, 2012.
NOTE: Please understand that when I break out the numbers for you, things are not always going to add up. In most cases I'm showing you only the top numbers for browsers or screen resolution, and leaving off technologies that had low numbers.
Windows Versions vs. the Mac Operating System
As you probably know, your computer operating system refers to Windows (on the PC) or OS-X (on the Mac). Not only can I see which operating system you are using to visit the site, but I can see the "version" as well.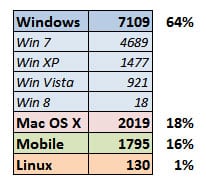 Here's how it breaks down for that 28 day period.
It's always interesting to see how the PC versus Mac battle is going, but I think it's more interesting to see (1) That Windows 7 is the well-established leader in Windows versions, (2) That Windows XP is still hanging in there, but loosing ground, and (3) that 18% of my visitors were  using Mobile devices.
And did you see that 18 folks were using one of the beta copies of Windows 8 (since it won't be officially released until later this year)?
Browser Wars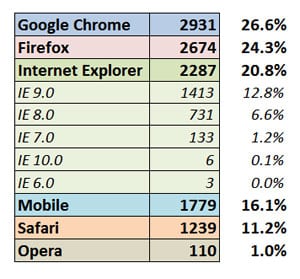 Next, let's take a look at what browsers folks were using.
As you can see, the once powerful and almighty Microsoft Internet Explorer (the browser that stomped good old Netscape out of existence) has been overtaken by not just ONE competitor, but two. Both Google Chrome and Mozilla Firefox are ahead of IE by a comfortable margin.
I think that part of the reason that a lot of folks have switched to Chrome (my personal favorite) and Firefox is because of the advice given by security experts who tell you that using Internet Explorer leaves you open to more malware attacks, because that's the program that most hackers target.
But as you might guess, with IE loosing ground, those same hackers are now also targeting Chrome and Firefox… so that advantage is dissapearing.
Still, when you compare the "browsing experience" between Chrome, Firefox, Explorer, Safari, and even Opera, you'll find that one browser in particular may "feel better" than the rest.
And that's the approach I think you should take.  Try them all and then pick your favorite.
And yes, you CAN have them all on your computer at the same time, and they will peacfully coexist.
BTW, at the Computer Education Center lab in Lincoln, we actually have a class called "Browser Wars" where we take you through the different browsers so that you CAN compare them. CLICK HERE to check our class schedule and see when the next one is offered.
Screen Resolution
Screen resolution refers to how wide and tall your monitor display is in pixels (which is NOT the same as the "size of your monitor" in inches).
Most operating systems, like Windows, let you easily change the resolution whenever you want to.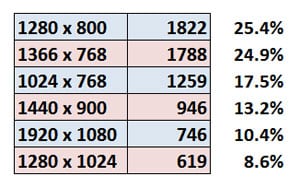 Why change it? Well, changing the resolution UPWARD (displaying MORE pixels) let's you "see more" on a page. Changing the resolution DOWNWARD (less pixels) makes everything on the screen "bigger".
The point is, you'll want to change the resolution to whatever setting lets you see things the best.
BTW, I have a video tutorial on how to change the screen resolution. CLICK HERE to see it.
Anyway, here are the site visitor statistics for resolution:
Not a lot to comment on here except to point out that the days of 800 x 600 are pretty much gone, especially now that most home computer users have flat-panel monitors that lend themselves to higher resolutions.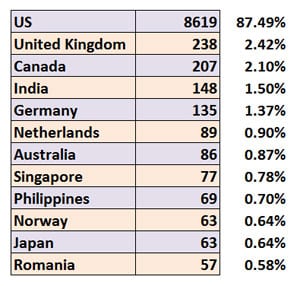 Where Are They From?
The final statistic I'm going to share won't make any difference to you personally (like the others might), but it's kind of fun to see.
There were quite a few other countries, such as China and Hong Kong listed, but all were less than "50" so I left them off this graphic. Still, the point is, you never want to forget that the Internet is a "world-wide" phenomena that includes a wide range of cultures and view points.
So there you have it.  A non-scientific survey of what folks are using for technology on the Internet. I hope you found it as much fun as I did to look through.
As always, I'd love to hear your experiences or comments. You can leave them below…
FREE eNewsletter Subscription
Wondering who you can trust when it comes to computer technology? Need answers that aren't full of techno babble? Sign up for the FREE DiscoverSkills eNewsletter